Reactive Extraction of Biodiesel
In the current processes for biodiesel production, pre-extracted oil which is usually degummed and refined is used as the starting material. However, transesterification of the oil can actually be carried out directly from the plant seeds without prior extraction. This route will simplify and improve the efficiency of the methyl ester production process as well as has the potential to reduce production cost. Using this technique, the use of hexane to extract the oil can be eliminated as the extraction is being carried out by the reactant itself.
| | |
| --- | --- |
| Conventional Transesterification | Reactive Extraction/In Situ Transesterification |
In the current study, the steps and parameters involved in the integrated extraction/reaction scheme will be investigated. The optimum values for methanol/oil molar ratio, catalyst concentration and temperature may differ between conventional transesterification and the combined reaction/extraction scheme. Parameters that affect extraction such as seeds pretreatment, particle size, moisture level, and solvent amount will also be evaluated. A more suitable catalyst may also need to be identified since the common alkaline catalyst for transesterification is adversely affected by water, which is inevitably present in the seeds.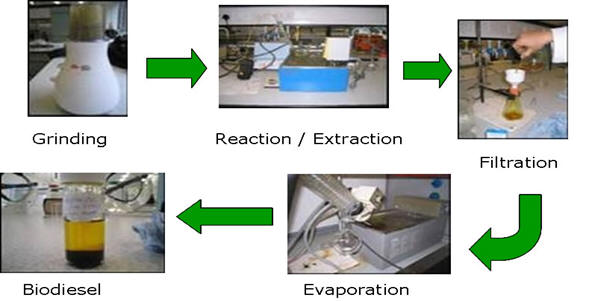 Reactive Extraction Process Flow
For more information please contact Prof Adam Harvey.